What does it feel like to be the "new" person?
Do you ever feel like you have nothing in common with your teachers? You probably think  that you can't possibly, but I'm here to tell you otherwise. You were all the "new kid" at some point, whether you were coming in from a new school or if you were a seventh grader. Take a minute to think about how you felt on the first day of school, chances are it was almost the same as the new teachers here at Rosemont. This year, our new teachers are; Mr. Hu, Ms. Castano, Mrs. Ingram, Mrs. Monaco,and  Ms. Chu. If you were uneasy when coming to Rosemont, I can assure you that some of the teachers were as well, even if it doesn't show. Although it looks like your educators are perfectly poised and handle being at a new school extremely well, they probably felt the same as the rest of us students. Your teachers have either been teaching for a few years or are completely new, but they are experts on how to handle going to a new place and adjusting to the new environment. All over California, there are 1,258 different middle schools that 866,921 students go to each year. You are all one of those people and most of those students are also very anxious about going to a new school. Mr. Hu said, " I was not nervous at all, this is my fifth year of teaching. I'm pretty confident in teaching the students how to do well." This shows that the teachers are more experienced and can handle whatever the students are going through when coming to a new school much better. Although  they can handle the situation better, it does not mean that they are entirely prone to have the feelings of anxiousness when coming to a new school. Were you surprised by how organized everything was, even on the first day of school? Most likely, your teachers had put together an absolutely amazing lesson plan for you all to follow along with each day. If you were astonished and pleased by that fact, you'd be happy to know that Mrs. Monaco was as well. She stated, "One of the great things about working in a school, particularly is that there's a lot of organizational things already set up for you like the group email for all teachers, and the group email from the district office…" Navigating the grounds must have been hard for all of you if you hadn't gone to orientation or seen the school before, but seventh grader Naira Megerdechian says, "I didn't have as much  problems because the day before I went and toured around the school,  if I hadn't done that I wouldn't have known where to go." This answer is quite similar to Claire Kim's, who is also a seventh grader. She stated, "I didn't have too many problems because I looked for my classrooms with my friends on Howdy Day." If you were at Howdy Day or Orientation, you probably felt nearly the same way as these two girls. If you would like to learn some advice from eighth graders Andre Sookazian and Matine Compani, here are some tips they would like to share, "Be confident,  be straightforward,and try to make friends." And some final tips from Mr. Hu are, "Just be yourself, ask for help if you need to, everybody here is really friendly, they're here to help so you don't need to be scared or nervous or anything like that."
In conclusion, teachers and students do have the same feelings when experiencing something new, but teachers are wiser and have been doing it for years, so they know how to handle the rougher situations in life.
Leave a Comment
Donate to The Spartan Scroll
Your donation will support the student journalists of Rosemont Middle School. Your contribution will allow us to purchase equipment and cover our annual website hosting costs.
About the Writer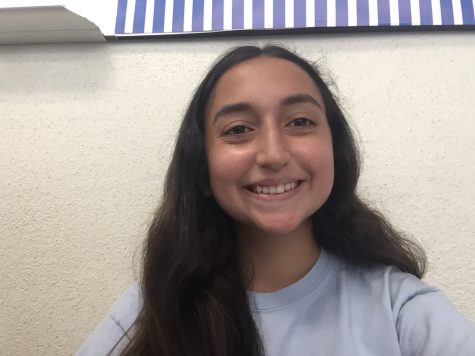 Sofi Akopyan, Opinion Section Editor
Sofi Akopyan was born and raised in California. She has always had a love of reading, writing, and sharing her views with others. She enjoys spending time...