What to Expect At the Dance
At this year's Rosemont Middle School dance, the theme will be Mardi Gras. Mardi Gras is a celebration the day before Lent, which is a 40-day season of prayer and fasting that begins on Ash Wednesday. It is a Christian religious observance. Mardi Gras, put in simple terms, is a day of doing a lot of what you are fasting from. Our dance is Mardi Gras because we are having a celebration, and has nothing to do with religion at all.
(flyers for the dance went out first period 4/19-4/20)
Things to expect
Tickets will be on sale beginning Wednesday, May 3rd at lunch in the amphitheater for $20 through May 12th. They will also be available at the door on the night of the dance. For the dance, anyone that wants a ticket to go can get one. Although, first come, first serve for the food tickets, so make sure you buy food tickets early before they sell out!
The Dance is for 7th and 8th grade Rosemont students only. No exceptions. You must have your student ID with you and your dance ticket to get in, no matter what.
The Dance begins at 6:00 pm. If you arrive after 7:00 pm, a parent must bring you to the entrance or you will not be admitted. All students will enter
There are going to be many different fun activities at this year's 2023 Rosemont dance. One thing there is going to be is food. A food ticket is 13$. In N Out will be served from 6-9 pm at different time segments. One segment goes from 6-7, another from 7-8, and the last one from 8-9. Only 500 burgers will be sold, so make sure that you get a food ticket in time!
Refreshments will be available at the snack bar. (Bring money if you are interested in getting snacks.)
The dress code is very fair for dressing.
Here are the dress code requirements for the dance.
Things you are allowed to wear: Things you are not allowed to wear:
-Dress in Pants -Shorts
-Collared Shirts -T-shirts
-Polo Shirts -Blue Jeans
-Spaghetti straps -Strapless dresses
-Backless Shoes -Super low necklines
-Appropriate length -Fully open back
-One shoulder strap -Ripped pants
-Partially open back
*Comfortable shoes are a good idea!
(NOTE: Just because the theme for the dance is Mardi Gras, it does NOT matter in terms of talking about dress code. You do not need to wear anything related to Mardi Gras, come dressed with whatever colors/accessories you'd like to wear following the dress code. Inappropriately dressed patrons will not be admitted.)
If you are to have a question about the dress code or a question about an outfit that you have already bought and are questioning whether or not it will be appropriate for the dress code, you can show your clothes to Mrs. Park, Mr. Laing, or Ms. Risse.
Have a great time at this year's 2023 Rosemont Mardi Gras Dance!
Leave a Comment
Donate to The Spartan Scroll
Your donation will support the student journalists of Rosemont Middle School. Your contribution will allow us to purchase equipment, take field trips, and cover our annual website costs.
About the Writer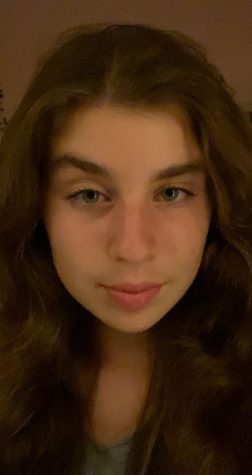 Brianna Balian, Arts and Culture Editor
Hi!

My name is Brianna Balian. I am a 7th grader and so thrilled to be in Journalism, writing and editing stories for you all. One of my favorite things...