Teacher Profile: Mrs.Baldwin
Who is Ms. Baldwin? Ms. Baldwin is a reliable science teacher at Rosemont who has been teaching at Rosemont for around 21 years. Ms. Baldwin grew up by L.A.X. and attended Elementary and middle school in Playa Del Rey. After she graduated from Westchester high school, Ms. Baldwin studied Marine biology at U.C. Santa Cruz. A teacher she really liked was her English teacher Ms. Powel who made English, a subject Ms. Baldwin wasn´t very good at easier. She later came back to college as a part-time student for two years to earn her teaching credentials. Growing up her favorite subjects were math and science which prompted her to choose a career in science. Before Ms. Baldwin was a teacher she helped test the monitors for glucose and had a lab job. Ms. Baldwin started teaching because she really didn´t like the lab job she had. She liked science and children so she decided to become a teacher instead of working at the lab! Teaching is a tough job and although there were times when she wanted to quit Ms. Baldwin is motivated to continue to teach by remembering the good days she has had teaching. To anyone in or who will be in Ms. Baldwin's class, her advice is to ask questions. You can ask your friends, email her, or some other way that you feel comfortable with. Ms. Baldwin's favorite parts of teaching are when her students have an ¨aha¨ moment (when they finally understand something) and when students are enjoying a lesson or lab. Her least favorite part is grading. Ms. Baldwin is inspired by her husband of almost 20 years and how much he has grown, changed, and learned. When she's not teaching Ms. Baldwin enjoys going hiking, going to the gym, hanging out with her children, and watching Hallmark movies! If given a wish Ms. Baldwin would wish to get through to all of her students. By teaching students Ms. Baldwin hopes to help kids understand and enjoy science. Something you might not know about Ms. Baldwin is that she is actually a kid at heart. For example, when she sees snow Ms. Baldwin makes a snow angel or throws a snowball. For any students wanting to be a science teacher Ms. Baldwin´s advice is to get a degree in something other than teaching that way if you change your mind, you can always pursue another career. She gave that same advice to her son who wants to be a cooking teacher. Ms. Baldwin has both kids and pets. She has two children Emma and Trevor and a pet named Skittles who is a 28-year-old bird. Emma also has a lizard. While Trevor likes science more than Emma they still don´t enjoy the subject as much as their mother. Ms. Baldwin would like all her students and future students to know that they shouldn´t give up and that some people need to be taught a different way than others. Coming into Ms.Baldwin's classroom you can expect both work, fun, and to ask questions.
Leave a Comment
Donate to The Spartan Scroll
Your donation will support the student journalists of Rosemont Middle School. Your contribution will allow us to purchase equipment and cover our annual website hosting costs.
About the Contributor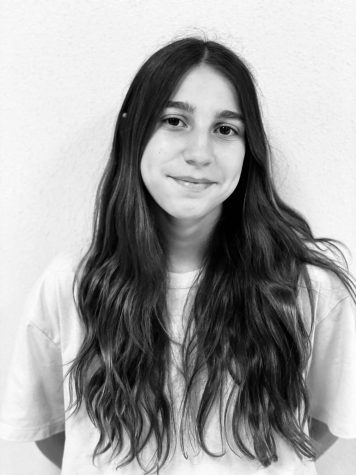 Leni Frommel-Martinez, Editor, News Section
Hello, my name is Leni Frommel-Martinez, I am an 8th grader that is a member of the Spartan Scroll and an editor for the news section. I have been a vegetarian...