Teacher Profile: Ms. Castano
Who is Ms. Castano? Ms. Castano has been teaching at Rosemont for 4-5 months. She was raised in the Los Angeles area and attended Rosemont Middle School. She went on to be a student and a cheerleader at Crescenta Valley High School. She also did student teaching there. Her favorite subject has always been English. After graduating high school she got her bachelor's degree in Social work and her master's degree at Grand Canyon Highschool. It was around this time three years ago that she knew she wanted to be a teacher. She also went to community college at Barstow Glendale and LA Missions. It took a lot of hard work to get her degree to teach, which she got online. This meant she had to stay up late while her kids were sleeping and write long essays. Her favorite teacher growing up was her creative writing teacher, Mr. Messel. Before she became a teacher she had many odd jobs, for example, she worked at Starbucks, Trader Joe's, other coffee shops, and she babysat. More recently she had a job as a one-on-one with kids that have disabilities. What made her want to teach was us, the students because she enjoys spending time with kids at middle and high school age. Even though teaching can be challenging, she knows that children are the future which motivates her to teach. Her least favorite part of teaching is having to dress in jeans and nice clothes every day Her favorite part is class discussions because it allows her to see into the mind of her students. When she's not teaching she mostly spends time with her kids. For example, she will coach one of her son´s baseball teams. She also finds pleasure in going to the beach and hiking. Additionally, she enjoys reading. Her favorite book at the moment is the book thief.
She is planning on having her children go to Rosemont just like she did. Even though they don´t share her passion for English her children are still her inspiration. For anyone in her class, her advice is to stay positive and work hard. Students can expect to work hard, do a lot of group work, and read and analyze coming into her class as a student. In her class, students can eat but are not allowed to draw on her whiteboard. Being a teacher is not easy. Luckily Ms. Castano had help from her mom who watches her children from time to time and Miss. Cole, Miss. Welsh, and Miss. Curtis. Her goal with teaching is to set her students up to succeed in high school and beyond. Something teaching has taught her is that some kids are very motivated and some need a little nudge of encouragement. For students that want to pursue the same carrier as her, her advice is to study hard and be flexible. In the future, Ms. Castano would like to host a club in her room. Ms. Castano is a hardworking, positive, outgoing, friendly teacher who isn´t planning on leaving Rosemont anytime soon. Ms. Castano would like all her students and future students to know that they are awesome!
Finally, Ms. Castano would like to say, ¨Rosemont Rocks!¨
Leave a Comment
Donate to The Spartan Scroll
Your donation will support the student journalists of Rosemont Middle School. Your contribution will allow us to purchase equipment and cover our annual website hosting costs.
About the Contributor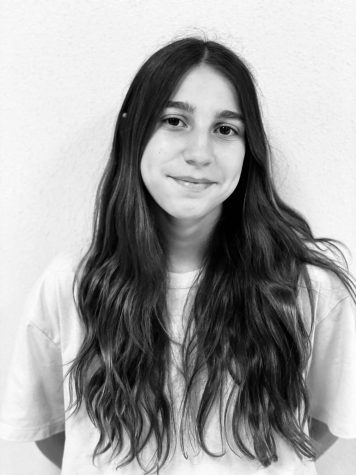 Leni Frommel-Martinez, Editor, News Section
Hello, my name is Leni Frommel-Martinez, I am an 8th grader that is a member of the Spartan Scroll and an editor for the news section. I have been a vegetarian...