National English Muffin Day~ April 23rd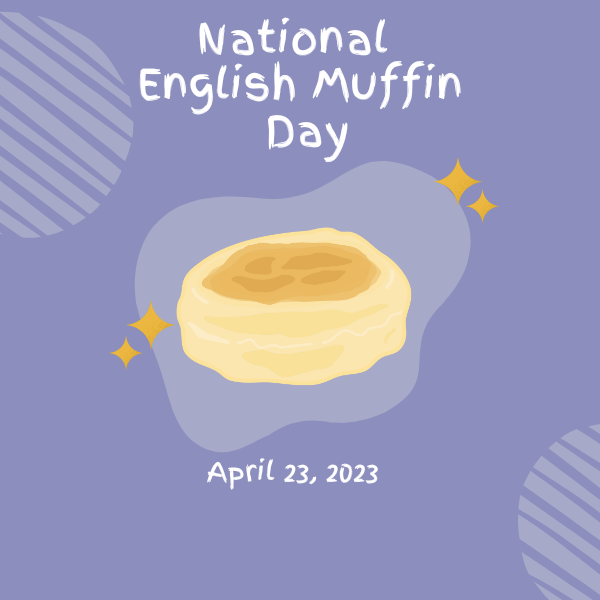 Ingredients:
1 ¾ cups of lukewarm milk
3 tablespoons of softened butter
1 ½ teaspoons of salt
2 teaspoons of sugar
1 lightly beaten large egg
4 ½ cups of bread flour
2 teaspoons of instant yeast
Semolina powder (sprinkled)
Recipe:
Combine all ingredients except for semolina. Once mixed, scrape and scoop the dough into a ball. Cover the dough and let it sit until puffy(for an hour or two) Next, prepare your griddle, and sprinkle it with semolina powder, if you are not using a nonstick pan make sure to spray for the griddle/pan with vegetable oil then sprinkle. Divide the dough into 16 pieces and shape them into a flat ball. Place them on your griddle/pan that's cold and sprinkle them with more semolina. Let the rest be covered for about 20 minutes. Once that is done, cook them on both sides for about 7 to 15 minutes. Let them cool for about 5 minutes, then enjoy!
History:
English Muffins are thought to have originated from "Bara Mean," a yeast-leavened baked cake in the 10th Century. They were created by an Englishman, Samuel Bath Thomas in 1874. Thomas emigrated from Plymouth, England, to New York where he invented his famous baked goods — specifically, in the Chelsea neighborhood. In 1926, Thomas trademarked his interpretation of a crumpet as the English muffin. The first known use of the term "English muffin" was in 1894. Though the British invented English muffins, they are better known in America than in Britain.
Student Opinions:
We polled 26 Ms. Monaco's journalism class students to decide if English Muffins were worth the national day. Out of the entire poll, 19.2% rated the bread a ⅔, with the same percentage it was placed ⅗. With a percentage of 53.8%, people said it was a solid ⅘, and with the lowest percentile, 7.7% rated the bread a 5/5! It's safe to say people enjoyed this muffin on its national holiday!
Price Check:
Along with taking a poll for the overall taste and enjoyment of the national muffin, we also asked students how much they think one bag (containing six English muffins) would cost at their local grocery store, For reference the average cost is around $1.99, shockingly the closest estimate by a student was $3.49. Almost a whole 2 dollars off the total cost, for the other answers most answers ranged from the four to six dollar mark, almost triple the cost of the actual price. An interesting note is that many of the students who rated the bread on a low level thought the bread cost much more, while students who enjoyed the bread estimated a much lower cost.
Leave a Comment
Donate to The Spartan Scroll
Your donation will support the student journalists of Rosemont Middle School. Your contribution will allow us to purchase equipment, take field trips, and cover our annual website costs.