National Brioche Day~ May 14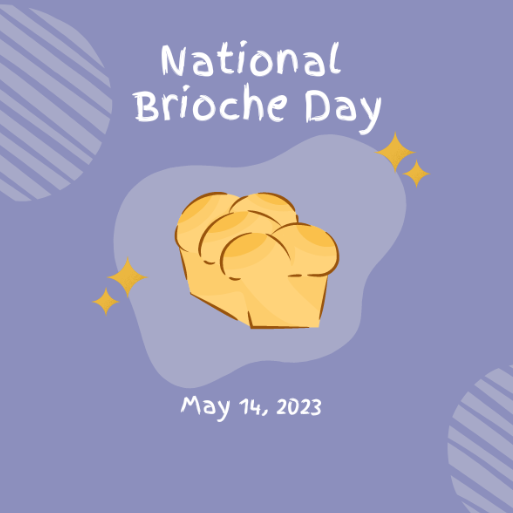 History: You may know that Brioche is a sweet, soft textured bread that can be eaten at breakfast lunch, and dinner. However, do you know the history behind this fluffy aliment? While Brioche is believed to have originated in Normandy from a tighter bread there are multiple myths about how this bread was created. One of them is that the recipe came from a mistake by an apprentice when they added too much butter at the end. Another myth is that when Marie Antoinette found out that the French people didn't have bread she supposedly said to let them eat brioche id buy brioche but there isn´t much proof of this statement. No matter the origin this piquant bread is perfect for pastries or to be eaten by itself.
https://therightbake.com/history-of-brioche/
https://beechefpastryschool.com/en/curiosities/origin-of-brioche-bread/#:~:text=The%20origin%20of%20the%20Brioche,or%20seasonings%20of%20their%20own.
Ingredients:
1 tablespoon of active dry yeast
⅓ cup of warm water
3 ½ cups of all-purpose flour p
1 table of white sugar
1 teaspoon of salt
4 large eggs
1 cup of softened butter
½ teaspoon of vegetable oil
Recipe:
Dissolve yeast in warm water in a bowl, and let it stand for ten minutes, or until velvety. Stir together flour, sugar, and salt in a bowl. Make a well in the middle and add the eggs plus the yeast mix. Beat until dough forms together. Turn dough onto a lightly floured surface and knead until smooth for 8 minutes. Then, flathe the dough and spread it with ⅓ of butter, repeat this step 2x. Between each step let the dough sit for 20 minutes. Put your dough in a bowl greased with vegetable oil, coat the dough then cover it with plastic wrap. Let it sit in a warm spot for 1 hour. Afterward, punch down the dough, cover it, and refrigerate for 6 hours. Preheat the oven to 400 degrees and lightly grease pans, turn dough onto a lightly floured surface and divide it into 2 pieces, form them into loaves, and place them in pans. Cover with plastic wrap and let them rise for around 1 hour. Now time to make an egg wash. (beat egg yolk and cold water in a bowl) Brush the egg wash onto loaves, and bake loaves in a preheated oven until golden brown on the top. (25 minutes) Let the loaves cool for about ten minutes and enjoy!
Leave a Comment
Donate to The Spartan Scroll
Your donation will support the student journalists of Rosemont Middle School. Your contribution will allow us to purchase equipment, take field trips, and cover our annual website costs.