National Baguette Day~ March 21
History:
You probably know that baguettes originated in France, but do you know how? The word baguette directly translates to "wand" or "baton", and it has four main origin accounts.
One of the most famous origin stories was from Napolean Bonaparte when he requested that a new bread be made, a slender, and easy for the soldiers to carry multiple in their arms. Another famous origin story was the tale that workers would have knives during their morning commute so they could cut their bread, however, this was a huge safety issue, which lead to multiple violent events in Paris subways. So because the this the management requested a loaf of bread from the bakers, that could be ripped with the worker's hands, a bread for which knives were unnecessary. Austrilans also had a significant influence on the famous bread, in the beginning of the 19th century steamed ovens originally came from an Australian baker, for he was the reason the croissant and baguette were able to be made in the first place. Lastly in the 1920's they had limited baking hours, the baguette was the only bread they could fully bake and let cool in the short time frame they had.
Recipe:
Preparation time:20 Minutes  Baking Time: 30
For starter:
½ cup water, make sure it's cool
1/16 teaspoon of actively dry or instant yeast substitute would be sourdough starter fed or unfed
1 cup of all-purpose flour
Mix ingredients together until it's a soft dough, cover, and let it rest at room temperature for 14 hours, after 14 hours the dough should have become bubbly.
For Dough:
1 cup + 2 cups of lukewarm water
all of the starter
1 ½ of dry or instant yeast
3 ½ cups of all-purpose flour
2 teaspoons of salt
Mix and knead ingredients together, by hand, mixer, or bread machine (set on dough cycle)
The dough should be cohesive but the surface should be slightly rough. If you are using a stand mixer mix on low speed for about four minutes. The finished dough should stick to the bottom of the bowl. Place the dough in a lightly greased bowl, cover it, then let it sit for 45 minutes. Deflate and fold the dough after the 1st 45 minutes after you are done folding then let it sit for another 45 minutes. Afterward, put the dough on a lightly greased board or flat surface, and fold and deflate the dough. After that divide, the dough into 3 sections, round each section into a ball and cover it with greased plastic wrap. Let them rest for 15 minutes(or up to an hour).
Afterward, working with one piece at a time flatten the dough and seal the edges with your hands. Turn the bread over and repeat. The dough should be elongated. After gently rolling the dough into a log. Place the bread seam side down on a parchment-lined great baking sheet(s) Cover them with lightly greased plastic wrap and let them sit until puffy. This should take 45 minutes to an hour. Preheat the oven to 450 degrees with a cast iron pan on the lowest rack. Roll the loaves of bread onto a piece of parchment and cut five angled slits on each piece of bread. Load the baguettes into the oven for 24 to 28 minutes. (they should be deep golden brown) Leave them on a rack and let them cool after. You can freeze any leftover baguettes. You can thaw them out and reheat them to serve.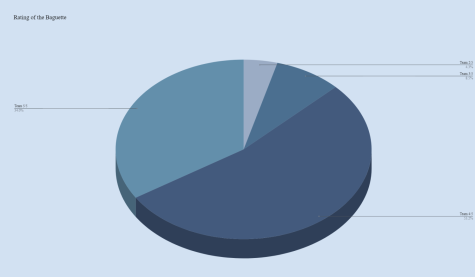 Student Opinions:
We polled a total of 47 people, with a mix of students (from the journalism class) and Rosemont staff, including Ms. Monaco, Mr. Bedrousi, and even assistant principal, Mrs. Park! When asked to rate the Baguete on a scale of 1 to 5, over half of the students 53.2% rated it a ⅘. While less than 13% rated it a 3 or under. Showing us a high percentage of baguette lovers on its national holiday.
Price Check: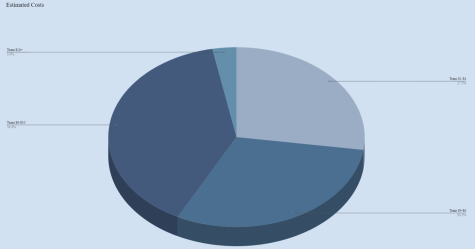 Along with asking people how they rated the bread, we also asked how much they thought a full baguette would cost. Doing this poll we saw a shocking amount of variety across prices. Some range from under two dollars to over ten dollars. This also showed us how much of a warped perspective students have of bread prices, many of the teachers we polled estimated the price as around two or three dollars. While the average estimate for students was close to five dollars.
Happy Baking!
Leave a Comment
Donate to The Spartan Scroll
Your donation will support the student journalists of Rosemont Middle School. Your contribution will allow us to purchase equipment, take field trips, and cover our annual website costs.