The Lost Bookstore on Montrose
Is it a plant store, book store, or record store? Why not all at once? The Lost Book Store is an enchanting jungle of a bookstore full of a comfy and inviting atmosphere. Home to now over 370 living plants, hundreds of records, and hundreds of books! As you walk through you can truly admire the effort, dedication, and time that went into creating such a magical place! The books and vinyl can be seen as slightly overpriced to some, however, the experience and mystical vibes of the store are an adventure in itself.
                                                                 What do They Sell?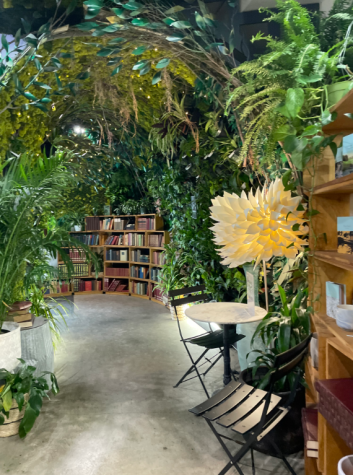 It was a large and empty space to fill, however, they conquered the space creatively by installing countless standing shelves in a maze-like pattern to make you feel like you're walking through a wonderland. By filling them with books, plants, and decor they close in the space with a comforting invitation to shop! Many of their books have been donated by the community, while others are bought brand new. Meaning their shelves are filled with historic classics, as well as new thrillers. You can find countless genres of books including historic, thrillers, self-help, adventure, young adult, romance, cookbooks, magazines, true crime, and more! They also hold a small bookshelf outside of their store featuring great books for only one dollar each!
Not a reader? They're sure to have a section for you! They fill a whole corner of their space with their collection of vinyl records, again both new and old, you can find top-quality vinyl to spin on a record player! They have a huge selection of genres ranging from old country to the newest pop. (Even Billie Eilish went there!).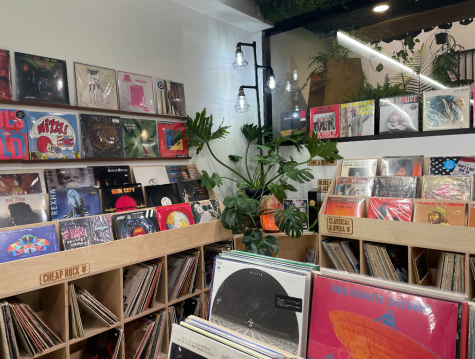 Not only are the plant's decorations, but many are equally for sale! Simply ask a worker for a quota, and most likely one of their floor plants will be for sale, and can find a new residence in your home. Lining the large front window at the front of the store you can find an assortment of candles, crystals, magazines, and more to purchase! Wanting a place to seat? They have multiple seating options throughout the store, including plush chairs towards the front, couches in the back, and a selection of stools scattered around.
The Designer
But who created this mystical store? None other than Yuko Kitchen, the store's designer, and creator! She immigrated from Japan in her early twenties and her business is blooming! As a former sushi chef, she currently runs three LA restaurants since 2012! Somehow with her little time left she managed to open, design, and mystify this bookstore adventure!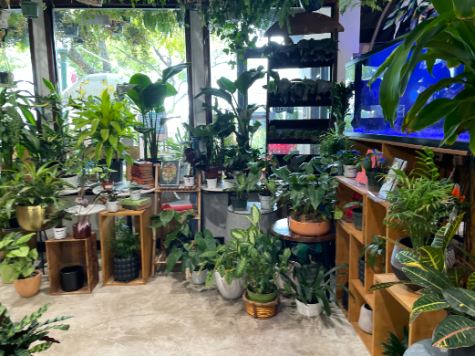 The moss and plant installation arch is full of living plants, which took hundreds of hours to create! Not to mention the moss ceiling that covers the entire roof of the building! Closing the space with these creative shelf barriers, designated sections, and plant walls makes the store feel a lot larger than it truly is!
Hearing a bird call? Is it in your head? Not at all! On the left wall of the bookstore, they have a handful of live pet birds who thrive in a floor-to-roof enclosure. Looking through a bookshelf you can peer through the small minimalistic bars you can see the pretty birds playing and flying around. Nothing like real nature to speak to you while shopping.
They may not have a sign outside, however, spilling onto the sidewalk there is a huge collection of small bookshelves and plants to draw your attention. Including potted and hanging plants, the store catches your eye and drags entices you to follow through the small entry door and into the magical adventure of The Lost Bookstore.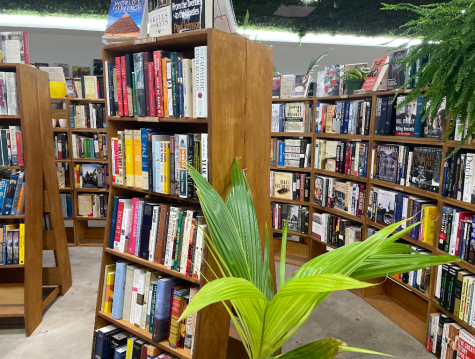 Leave a Comment
Donate to The Spartan Scroll
Your donation will support the student journalists of Rosemont Middle School. Your contribution will allow us to purchase equipment, take field trips, and cover our annual website costs.
About the Contributor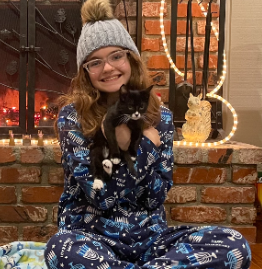 Sofia Diamond, Senior Sports Editor
Sofia Diamond was born and raised in the local Los Angeles area. She used to live in Eagle Rock and went to an LAUSD school. As an 8th grader at Rosemont...